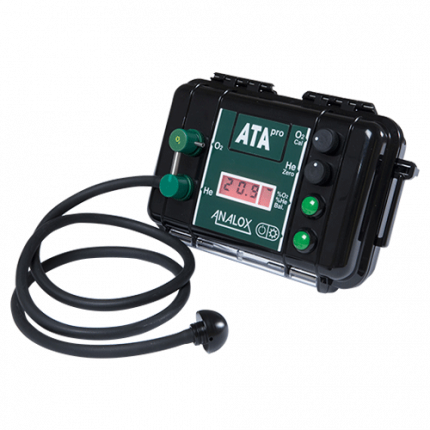 Analox ATA trimix analyser
The ATA Pro is a compact trimix analyzer offering oxygen, helium and balance gas readings in one box – the ideal all-in-one gas detection package for scuba divers
The ATA Pro is a compact trimix analyzer offering oxygen, helium and balance gas readings in one box – the ideal all-in-one gas detection package for scuba divers

The ATA Pro has the ability to zero and span the helium sensor as well as oxygen compensation allowing for a more accurate helium reading.

Knowing your correct gas mix is invaluable when planning your dive. When exceeding the normal limits, having the incorrect gas mix can prove to be fatal.

The ATA Pro is a portable trimix analyzer which takes readings directly from your tank. Compact and lightweight, the ATA Pro can be easily carried wherever and whenever you dive.
Address: Puretech Middle East FZE
1st Floor, Jafza View 18 & 19
Jebel Ali Free Zone
Po Box 263797 Dubai , UAE
Mobile: +971 56 138 6233
info@puretech.me

Accepted Cards