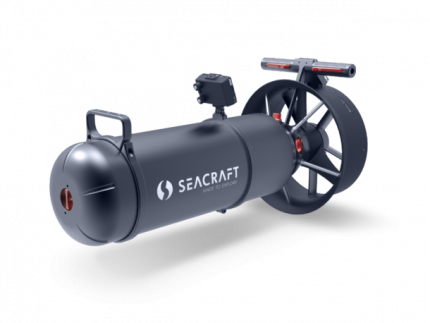 Ghost BX 1500
Ghost is a model for professionals, whose high requirements in technical equipment have encouraged them to look for the best DPV available on the market.
The GHOST model was built to exceed the current limits set by other DPV scooters and is a unit of choice of all deep divers, as it is tested up to 300m depth. The exceptionally large battery (standard 1500W, extra capacity 2000W) is almost impossible to be discharged even during the longest exploration dives.
IT'S MAG(NET)IC

The most unique element of Seacraft construction is its motor which operates directly in the water.

Specially designed and patented solutions allow complete elimination of the drive shaft and the need for unreliable seals and gear transmissions used in other DPVs.

RELIABLE PLANNING

Remaining burntime is being constantly calculated, taking current gear and engine load into account – enabling a safe realisation of the diving plan.

While the load on engine is above 50W- what means that it is likely operated underwater- estimated remaining run time, based on the current engine load will be calculated and displayed in the left lower screen corner. The remaining burn time is displayed alternating with trigger time.

The internal electronics measures the average current drain, and every 6s it will update the calculation, based on average power drain.
This allows to precisely set your driving speed- for example, in difficult to plan scenario- as dive partner towing.

Together with Electronic Navigation Console and it's speed metering, choosing a best speed for the planned task has never been simpler.

Silent Drive

Silence… it what we look for underwater. Seacraft is most silent DPV on the market- with virtually no sound generated, thanks to transmission-less, and shaft-less construction.

Underwater, sound propagates very easily what affects fish and wildlife- simply, scaring them. With Seacraft scooter, you can be less disturbing visitor of underwater world.