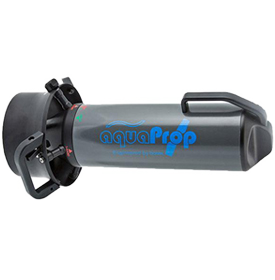 Aquaprop
The first compact, travel-friendly underwater scooter which also meets the exacting standards of scuba divers and swimmers. This scooter features a very low weight of just 7 kg and can be used in a wide range of scenarios.
Control of the scooter is possible using one or two hands. With two available speeds, run-times of up to 75 minutes can be achieved, making it the ideal companion for swimmers, snorkelers and divers. Its low weight and NiMh batteries mean it can also be transorted on airplanes.
AquaProp, so light, so easy, just take it !
Address: Puretech Middle East FZE
1st Floor, Jafza View 18 & 19
Jebel Ali Free Zone
Po Box 263797 Dubai , UAE
Mobile: +971 56 138 6233
info@puretech.me

Accepted Cards